The Best Complete Trading Course Bundle!
Includes 5 Complete Trading Courses Plus Trading Mastery: Harmonic Patterns + Classical Technical Analysis
The 12-Hour Mastering Pattern Recognition Course ($897).
Introduction To Pattern Recognition ($99)
Self-Study Course ($349)
S&P 500 Trend Day-Trading Course ($249)
Harmonic Patterns + Classical Technical Analysis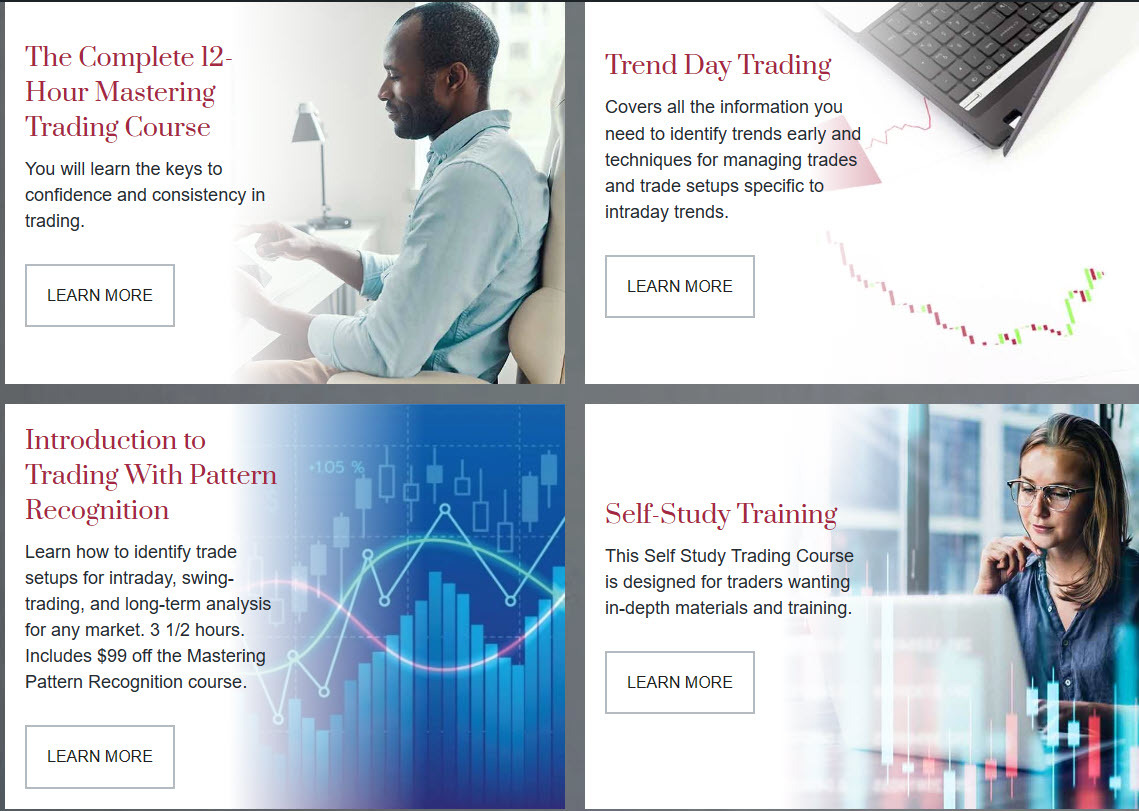 Beyond the charts, learn how to evaluate your trading style and outcomes for consistent and confident trades.
Subscribe to our weekly videos with analysis and setups. Covers all major indexes and includes bonus content.
1-on-1 skill-building to define your goals, develop a plan, and eliminate your costly trading errors.
Learn the Method, Get the Mindset
Your mindset can greatly impact results, positively and negatively. Our courses include simple steps for identifying, understanding, and correcting your emotional triggers. Then you get a cohesive, step by step process you can follow to develop a plan with a focus on controlling risk and emotions.
Feedback on Our Course
Mastering Stock, Futures & Forex Trading With Chart Patterns
The course is your path to understanding the unique characteristics and hidden patterns of your market. Leslie brings rare and extensive experience of trading with renowned and extremely successful professionals, in addition to her excellent teaching skills, with masterful chart tip follow ups on each lesson that are unlike any other. Whatever your market and experience, this course is a must IMO.
— Terry Pitman
A Real Process Based on 20+ Years of Trading Experience
Learn from an Expert in Technical Trading
Leslie Jouflas, CMT has been in the markets as a private trader and educator for more than 20 years. She's the first to admit trading isn't easy. That's why she developed a process for identifying exactly how you make money and how you lose it; the smallest of errors can have a great impact on your bottom line. She helps you see the things below the surface that cost you money.
Leslie has educated thousands of traders in her methods and is the author of two well-received books on technical trading. Her many articles have appeared in highly regarded publications, and she is a regular contributor to StockCharts Top Advisors Corner.